We Are Thankful For John Bel Edwards And Donald Trump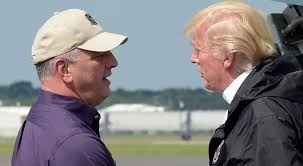 We are thankful for John Bel Edwards and our President Donald Trump. We hope both will choose to continue to put the people before party politics. Purely partisan false attacks without cause have greatly hurt our President and our Governor's ability to serve. As victims of such attacks we hope both men will put the people first and reject them.
Donald Trump is new to the defense of our values. However, his administration's appointments and actions in that regard have been much stronger than the Reagan administration or either Bush administration.
John Bel Edwards' defense of our values has been lifelong, and is essential to his faith. We thank God for that.
Thanks to Governor Edwards, Louisiana is not New York. Dan Fagan points this out well in the Advocate: Pro-Life John Bel Edwards
Both men have also stood 100% behind our 2nd Amendment Right to bear arms. Although this position is also new for President Trump, John Bel Edwards is a lifetime sportsman and lifetime gun rights supporter.
Please thank Governor Edwards and President Trump for supporting our values with an email today: