REPUBLICANS AGAINST COMMON CORE SUPPORT EDWARDS

Ralph Abraham was financially unable to compete with Eddie Rispone statewide. Those who he has served for years as Louisiana's most conservative congressman know of Abraham's opposition to Common Core that has hurt Louisiana's children. Eddie Rispone called conservative Ralph Abraham a friend of Nancy Pelosi, so it's not surprising Rispone is bold enough to say he's now against Common Core. But it is ridiculous. It is just as insulting to voters as the lies Rispone told about our Congressman Ralph Abraham. This April 2, 2014 Baton Rouge Advocate ad paid for by Rispone proves it.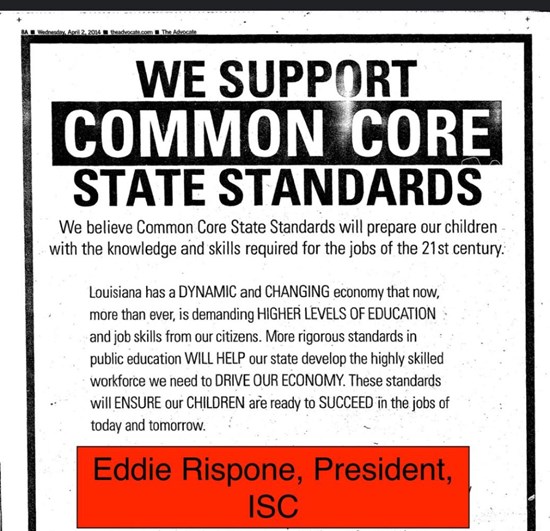 Rispone has filled the Louisiana BESE board with Common Core supporters through his huge PAC contributions. It remains to be seen if those millions can secure the governor's seat. Among the most conservative of voters, parental activists fighting Common Core have now moved from Ralph Abraham to support John Bel Edwards as the only anti Common Core candidate still in the race. The fact that they also have common ground with Edwards as a lifetime pro-life and pro gun rights supporter has made their move much easier.
In a race likely to be settled within a two percent margin the voters personally affected by Rispone's Common Core takeover of Louisiana schools just may be enough to make the difference election day. Stay tuned for developments in this close and critical race.
Put Louisiana First Staff
10/29/19