Report Shows Changes To LSU Admissions Might Hurt Students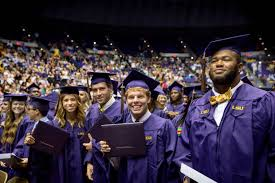 "In a first look at college freshmen admitted without meeting minimum standards, the Board of Regents found Monday that students enrolled by "exception" had lower grades, were more likely to leave early and didn't graduate at the same rate as those who met the criteria." - Baton Rouge Advocate
We first learned of the changes to LSU admissions procedures in September 2018. Our initial emphasis was that the changes should not have occurred without vetting and approval by the Board of Regents. This is what our constitution prescribes. The LSU Board of Regents and its chair Marty Chauvin have just released an initial report on the performance of students "admitted by exception" to the standards put in place by the Board of Regents. The report is concerning. As a Flagship University LSU has several missions. In the degree granting role, student success must be the goal. Students are best served when their degree is highly respected, it is obtained without onerous student debt, and the skillset obtained enables them to prosper in their chosen career.
As an alumnus of LSU. I am biased. I'm a Tiger. I'm also a supporter all the fine institutions in our state and know the role they play. In its wisdom the Board of Regents has established several paths to success. One of these paths offers GUARANTEED admission to LSU. Our LA Community Colleges offer a two year degree that guarantees admission to LSU when completed. The credits transfer allowing the student to receive the same LSU degree that a four year student at the main campus does.
In the Manship School of Mass Communication students with composite ACT scores of 23 and below account for about 40 percent of the 2018 freshman population. The number is a twenty percent increase from 2017. This fall, Manship hired their first Supplemental Instructor for Mass Communication Media Writing. Removing politics or any consideration other consideration than what is best for all students , this change in direction must be examined. If there is a young person in Louisiana looking at a student loan after failing to complete an LSU degree that could have obtained that same LSU degree in a path more beneficial to them, the institution has become more important than the student. We must Put Students First.
Richard Lipsey
Put Louisiana First
Click this link for Advocate Coverage of the Report and a link to the Regents Report