Governor Edwards Hails $80 Million Louisiana From Trump Administration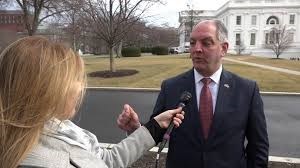 Governor John Bel Edwards attended an infrastructure meeting at the White House after being invited by President Trump.


The Trump Administration has provided a record $80 million dollar windfall to Louisiana following this year's infrastructure meeting with John Bel Edwards at the White House.
The critical Pecue Lane interchange project will receive $16 million to solve a Baton Rouge traffic issue that has awaited funding for 25 years. The interchange will reduce interstate traffic and improve north-south flow in Baton Rouge.
The record $80 million will also resurface a portion of I-12, and improve safety and function at railroad crossings. Demonstrating efficiency the Edwards administration is bringing a record amount of funds that were previously awarded to other states.

If you support Governor Edwards and President Trump working together to Put Louisiana First let them know by going to http://www.putlouisianafirst.com/contact