Don't Lower Standards At LSU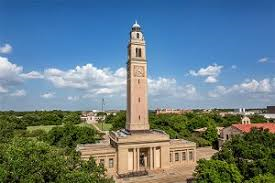 "The more we have removed subjectivity and politics from LSU admissions, the more we have been successful for the people of LSU." -Richard Lipsey, Founder of Put Louisiana First
LSU President King Alexander actually supports our argument in his guest column in the 9/6/2018 Advocate. The unilateral action Alexander has taken to disrupt the admissions process for not only LSU, but schools across our great state is unwise, dangerous, and will produce chaos.

Alexander commends the fact that LSU just enrolled its largest and most diverse freshman class in history with a mean ACT score of 26. These outstanding numbers were achieved under the wise policies established by the Board of Regents and LSU Board of Supervisors before Alexander arrived. He now seeks to change them.

LSU had years of substandard performance, undue political influence, and inappropriate influence based on money and power. The sound standards established by the Board of Regents and Board of Supervisors have paid great dividends.
Alexander wants to claim credit for the great success of these standards established long before he arrived, and then unilaterally change them. He wants to change what has created this success just as LSU and all our institutions around the state are finally achieving some measure of economic stability. He wants to disrupt the budgets and business models of all our other universities around the state just as they are stabilized. He did not consult with those responsible for other Louisiana public universities as anyone who wants to put Louisiana first would.

Alexander claims his policies reflect those at Harvard University that has a 5 percent acceptance rate of applicants, and the University of Texas that has a 39 percent acceptance rate. These schools turn down thousands of high-achieving students annually. This is an absurd comparison to be made when LSU has a 76 percent acceptance rate and a practice of admitting all applicants qualified by standards that will now be subjective.

Very often those within a bureaucracy lose sight of the people of Louisiana's purpose for the institution they are employed at. The Regents and Supervisors initiated the flagship concept for LSU before Alexander was here. They did this on behalf of the people of Louisiana who have since been served by initiating objective standards that are not subject to political influence, financial status, or cronyism.

In short, the more we have removed subjectivity and politics from LSU admissions, the more we have been successful for the people of LSU. Changing this certainly may be very good for Alexander and certain bureaucrats. It will allow them more personal power from their subjective control of admissions. It may be good for the child of a wealthy donor or influential politician. It will not be good for the vast majority of hardworking students and parents who have been competing and succeeding with defined rules. They now will be subjected to having their educational futures determined by arbitrary decisions of an admissions bureaucracy that can be influenced by politics and cronyism.


Richard Lipsey
Founder, Put Louisiana First