Home
❭
News
❭ Congressman Graves And Governor John Bel Edwards Put Louisiana First To Secure Billions In Flood Control
Congressman Graves And Governor John Bel Edwards Put Louisiana First To Secure Billions In Flood Control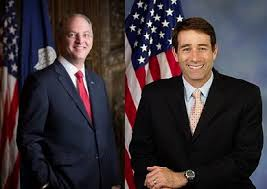 "All told Louisiana will receive billions to right the wrongs and improve and modernize drainage. It will be breathtaking to behold once it's under way, when you have the combination of all of these dollars."- Graves Spokesman

After years of neglect a cooperative effort by Graves and Edwards has resulted in the U.S. Department of Housing and Urban Development announcing $1.2 billion for the state to provide money for flood mitigation projects that are aimed at better management of entire watersheds, like the Amite River basin. The U.S. Army Corps of Engineers has also announced an additional $1.4 billion in projects
FEMA will also provide $220 million in hazard mitigation dollars to Louisiana.

The money will be administered by the state and a "watershed council" is now developing a process to review projects and allocate the money. Graves and Edwards have long made the point that the state completes these projects faster and at a fraction of the cost of the US Army Corps of Engineers. In a continued effort of cooperation Congressman Graves and Governor Edwards released a joint statement on the funding.