Home
❭
News
❭ As We Honor Martin Luther King Jr. We Thank Todd Graves For An Opportunity To Consider True Leadership
As We Honor Martin Luther King Jr. We Thank Todd Graves For An Opportunity To Consider True Leadership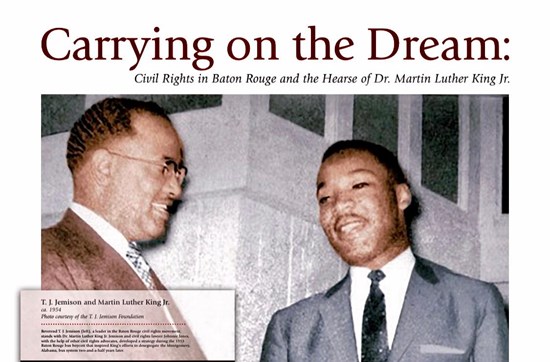 It's important that the next generation really understands how the contributions of Martin Luther King, Jr. changed the world. Many of us did not get a chance to hear MLK during his lifetime, so I am hoping they will be able to appreciate him and his work through this tribute to honor his life." Todd Graves Raising Cane's Founder and CEO
As we honor the legacy of Martin Luther King Jr. this Monday we must consider the power of true leadership and what it can mean for our community and America. As we face the challenges of today we must remember the challenges of Dr. King's day were no less difficult. We have not reached his mountain top where all Americans will be judged only by the content of their character, but his leadership led us through trying days to better ones. If we are to move forward today we must find and support leaders that will Put Louisiana First and Put America First. That's why I'm thanking LSU Grad, Raising Cane's CEO Todd Graves for personally making an important exhibit available first in Louisiana that all America needs to see.

The Capitol Park Museum in Baton Rouge has a new exhibit, "Carrying on the Dream" which features a rare display of the hearse that carried prominent civil rights leader, Dr. Martin Luther King, Jr.'s body, at the time of his death. The exhibit includes the 1966 Cadillac Superior Coach hearse as well as counter stools from the Kress store that were used during the 1960 Civil Rights protest in downtown Baton Rouge.

"This is an opportunity for people to view Dr. King's hearse as it is such an important piece of history compelling us to contemplate the lasting significance of the civil rights movement," said Lt. Governor Billy Nungesser. "The hearse will serve as the centerpiece of a tribute to the struggles of the civil rights movement here in Baton Rouge where the early stages of that time in our nation's history got its start."

Thanks to Todd Graves and all his great Raising Cane's team members across America for making this important exhibit possible.
Richard Lipsey
Put Louisiana First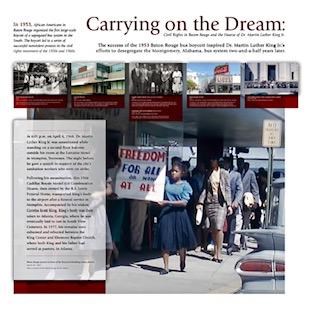 The exhibit is open during regular museum hours, Tuesday – Saturday, 9:00 am until 4:30 pm. School groups are welcomed and asked to make a reservation at (225) 342-5414