We Cannot Lose This Battle To Alabama!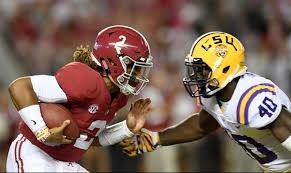 We watched kids from Louisiana make plays in Tiger Stadium wearing Alabama uniforms last Saturday. It's something that didn't start with this coaching staff, and something they know they must stop. We wish the football staff all success in doing it. However, there is another much more important battle for Louisiana families underway. This is the competitive battle among our peer states for the best young minds and best trained workforce that will determine whether Louisiana is a place our kids and grandkids can prosper in.
It's not uncommon for students to settle in the state of their alma mater, and that is one of the economic drivers for any state. Jobs and a winning economy for Louisiana are completely dependent upon having a team with the needed skills and education.
If you think the stats on Alabama's 2017 football recruiting class are impressive, check this out: Alabama's average GPA for the 2017 incoming freshman academic class was 3.72, one third of class had a 4.0, and more than 40 percent had a 30 or higher on the SAT. LSU President Alexander has attempted to justify his unauthorized violation of Board of Regents admissions standards by saying schools like Alabama are also using a "holistic approach."
Like any catch phrase, "holistic" can mean a lot of things. What it means at Alabama in their own words is that "A student with a 21 ACT ALONG WITH a GPA of 3.0 should be successful at the university". Alabama also says "In terms of educational preparation, the college preparatory curriculum minimum unit requirements for regular admissions are
4 units of English
4 units of scocial sciences, including world history or a comparable course
3 units of mathematics including algebra 1, algebra 2, and one unit of either geometry, trigonometry, or calculus
3 units of natural sciences, including two courses with lab components
1 unit of foreign language
5 additional units of academic courses"
That's pretty specific.
In inflation adjusted dollars, Alabama students saw a decrease in state funding of $4,337 per student from 2008 to 2016. By comparison, the nationwide average decline in state funding per student was $1,598. Sadly, Louisiana at $4,602 saw a slightly larger decrease by in state funding per student. Within $265 of each other, Alabama and LSU are peers in this area. After the decline in funding only 12.5 percent of the University of Alabama budget was from state government in 2016.
Facing this backdrop of decreased state government support, what has the leadership at the University of Alabama achieved? Very simply, The University of Alabama is the fastest-growing flagship in the country. Enrollment grew nearly 58 percent in a decade. That's well and good, but just as in football we need to look at the type of academic recruits landed at Alabama. The average G.P.A. of entering freshmen increased to 3.66 from 3.4, and the top quarter ACT score increased from 27 to 31 over the same decade. Alabama is on pace to hire 350 new faculty in the 5 years that began with 2015.
During the week before the game in Tiger Stadium between the Tigers and the Tide there was huge recruiting activity right here in Baton Rouge. Yes, many of our top athletes were being wooed by Alabama and Coach Orgeron was fighting hard to keep them. We are not qualified to update you on that. However we can tell you that a room at the Renaissance Hotel in Baton Rouge was filled that same week with top academic Louisiana high school juniors and seniors. Any parent or grandparent of an academically excellent Louisiana High School junior or senior knows and is possibly dismayed that a Saban like recruiting push is being made by Alabama to bring these young academic talents to Alabama. They know the value they can add to Alabama's medical, financial, tech, and aerospace economic development activity. We wish Coach Orgeron nothing but success in keeping our athletes home. However, long term for Louisiana it's much more important that LSU's administration has what it takes to compete against Alabama for top economic talent, faculty, and research dollars.
At Put Louisiana First we realize the need to continually review and provide for exceptions in an admissions process. The Louisiana Constitution provides for that, and that provision does not include any school administrator disregarding and violating standards set by the Board of Regents. In a future piece we will discuss how standards can grow and prosper LSU utilizing the multi-system approach already established by the Board of Regents. There is already a provision that can actually guarantee admission to LSU for any student that may not be prepared to enter as a freshman. More to come on that later.
Richard Lipsey
Put Louisiana First