News
Thursday, September 5, 2019 11:11 PM
August 4, 2019

Today the Baton Rouge Advocate released another investigative piece on the LaHIT scheme. It is linked below. Folks are asking me today what I have to say. We launched our call for a change in leadership at our beloved school in September 2018. Our call was always grounded in restoring the rule of law and constitutional compliance that has been actively undermined by King Alexander, the Jindal administration, and their cronies and must be restored with new leadership and processes. Click the link for details.

---
Sunday, August 4, 2019 6:16 PM
Legislative Auditor Daryl Purpera has a busy office, filing 66 reports in just the past three weeks. Yesterday he announced that he had reopened the audit process in regard to one of them. Click the link to read the questions that now must be answered.




---
Sunday, June 23, 2019 1:55 PM
As a resident and business owner in the area of the proposed St. George I support Governor Edwards' veto of the Louisiana Legislature's attempt to turn the pocketbooks of the hardworking people of the proposed St. George over to a UNELECTED committee of 5 insiders. Look at the disturbing text below from the bill he wisely vetoed.
Click the link above for details...
21 B.(1) The district shall be administered and governed by a board of
22 directors of five persons composed of:
23 (a) The mayor-president or his designee who shall be a registered voter
24 and living in the district.
25 (b) One member, who shall be a registered voter and living in the
26 district, appointed by the senator representing Senate District No. 16.
27 (c) One member, who shall be a registered voter and living in the
28 district, appointed by the member of the House of Representatives representing
29 House District No. 66.
30 (d) The chairpersons for the petition for incorporation of St. George or their designees.


---
Monday, June 10, 2019 3:26 PM
The latest of the numerous King Alexander caused scandals at LSU hit the news today in the form of a report from the Legislative Auditor. Just the facts presented in the audit are certainly disturbing enough to immediately bring an end to the tenure of King Alexander and Dan Layzell at LSU. Unfortunately our independent investigation reveals much more, much worse, and more telling information than the audit. Click the link for the disturbing facts.

---
Monday, May 27, 2019 12:09 AM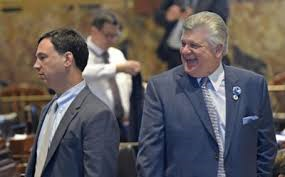 Click to check out Lance's big plan to bring back the bad old days.