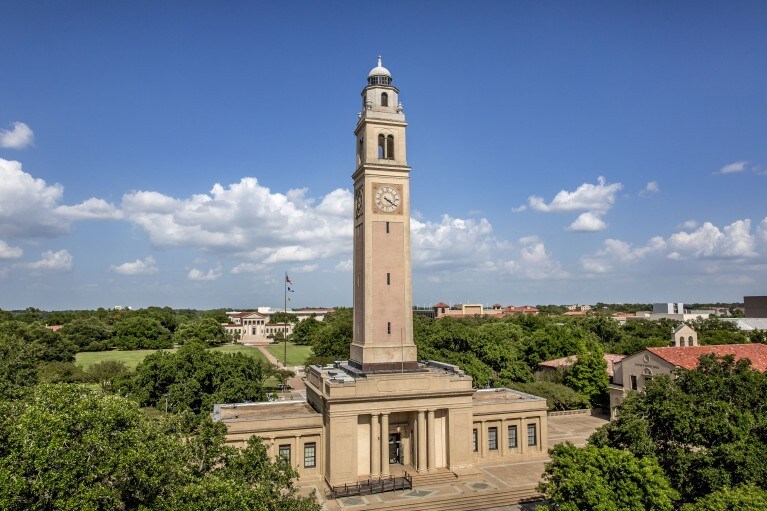 ALUMNI AND TAXPAYERS ARE CALLING FOR A TRANSPARENT NATIONWIDE SEARCH FOR LSU PRESIDENT
Our group has been contacted by alumni and citizens in the past few days expressing their insistence that a transparent and truly nationwide search be conducted by the LSU Board of Supervisors to fill the position of LSU President. When the LSU Board announced the hiring of Scott Woodward as Athletic Director there was an immediate national "wow" factor reaction for the hiring of a highly qualified leader that clearly was one of the best for the job to be found anywhere. The selection of the next LSU President will have a greater impact on Louisiana than almost any decision being made this year. We can't do less in regard to this critical job.
Part of the concern folks have is the recent discussion of "splitting the job" back into two separate positions again. Those promoting this idea say "the job is too big" for one person. It is a big job, but there are plenty of jobs that seem too big for one individual: CEO of a large Fortune 500 company, CEO of a large healthcare organization, and many more come to mind. Even the job of a major school athletics coach presents as "too big" for one individual. But these jobs are not split, as the need for a single outstanding chief executive is clear. The failures of previous LSU leadership should be addressed by hiring an outstanding leader and not be used to split the position of LSU President position in a way that robs LSU of the opportunity to select the type of outstanding leader we need. Big talent will only be attracted to a big job. If politics and small thinking do not get in the way, when the next LSU President is announced there will be another "wow" moment when a person of outstanding qualifications is announced. If politics and small thinking interfere and the selection is what would be expected by the same old practices that have kept our state down, a historic opportunity will have been lost.
THIS IS WHAT LSU STAKEHOLDERS ARE SAYING TO US:
THE PROCESS MUST BE TRANSPARENT AND ANNOUNCED BEFORE THE NEXT LSU BOARD MEETING: The scope and process for obtaining candidates, evaluating candidates, and making a selection for LSU President must be given to taxpayers and all stakeholders before or at the next LSU Board meeting on March 6, 2020. Since no candidates' names would need to be involved in making the decision to keep or modify the current single position structure developed by the Flagship Coalition and used very successfully elsewhere, the process to decide whether to keep the current structure or split the job should be transparent with public discussion and input opportunity for stakeholders.
FACULTY WANTS TO SEE LEADERSHIP WITH ACADEMIC BACKGROUND: The resumes of outstanding leaders at highly ranked universities and elsewhere demonstrate that individuals possessing both outstanding administrative credentials and academic credentials can be found.
GET THE RIGHT LEADER AND DON'T GO BACK TO THE PAST: LSU must have a single exceptional leader at the helm to first get our Flagship back within the top 100 universities (we are currently #153), and then take us to the upper echelon of public institutions. Splitting the job may rob LSU of top talent that will only be attracted by a job of large scope.
POLITICS SHOULD NOT PLAY A PART IN THE SELECTION: Let our Board of Supervisors make this momentous decision keeping politics out of the equation.
HISTORY WITH LSU AND/OR LOUISIANA IS ALWAYS A PLUS BUT NOT ABSOLUTELY NECESSARY: The greatest level of academic progress, fundraising success, and state funding occurred under leadership with no previous LSU or Louisiana background.
PERSONAL FUNDRAISING ABILITY IS A MUST: While a great fundraising team is absolutely necessary, the next LSU President must have the ability to personally engage donors and manage the effort.
NATIONAL LEVEL CORPORATE AND GOVERNMENTAL CREDENTIALS ARE NEEDED: In order to obtain the public/private partnerships needed for research funding, grants, and corporate sponsorships the next LSU President needs to have already demonstrated success obtaining research funding, grants, sponsorships, and other funding from state, federal, and private sources.
EFFECTIVE PERSONAL COMMUNICATION AND PUBLIC COMMUNICATION SKILLS: The next LSU President must have demonstrated the ability to communicate with all stakeholders as needed on a personal level along with demonstrated effective public communication ability including crisis management communication.
INNOVATION: The leading universities of the world in 10 years will look much different than they do today so the next LSU President must show a history of successful innovation.
ATTRACT AND MANAGE THE BEST TALENT: The next LSU President must have demonstrated the ability to hire and manage the best talent for success.
We thank all of the LSU stakeholders who have reached out to us in the past few days, and we encourage you to email the LSU board members at the contact emails provided below to share your thoughts directly to them and any ideas or concerns, because you own LSU. Please encourage them to have the courage to avoid any political influence. Ask them to take the time and have the determination to select new LSU leadership that will be recognized internationally as a clearly qualified and outstanding choice. If we Put LSU First above all and take advantage of this historic opportunity to select an outstanding LSU President, LSU can reproduce the athletic success we have just enjoyed in every aspect of LSU. This LSU Board of Supervisors can leave a legacy of excellence and greatness for which they will be recognized for years to come by taking full advantage of this historic opportunity.

Click this link to contact your LSU Board of Supervisors:
https://www.lsu.edu/bos/members/board-members.php

Keep communicating with us and we will keep sharing on your behalf to make sure our officials Put LSU First.
Think LSU. Think Flagship. Think Big!